Storage Units Near Me
0
Moving companies aren't only good for deliveries and packing up your house. They can also manage your storage solutions if you don't have room for your items at any given time. Having local movers and long distance movers that can provide a one-stop solution for all of your needs can save you from a lot of stress.
There are going to be plenty of obstacles you'll encounter – whether at home or at work – that might call for a delivery date that's different from the pickup date. Whatever the case may be, we don't always have extra storage units in our homes or offices. If you're trying to sell things you don't need, it could take months before you find a qualified buyer.
WANT TO GET A HEAD START ON YOUR MOVE?
If you're planning on moving to a new home in the near future and want to get a head start, it's always a good idea to start packing your small items immediately – especially the ones that you won't be needing. If you find yourself getting to a point where you're several weeks away from moving and you already have a majority of your things packed, you can have your local or long distance moving companies get these items out of your way until you're ready to move.
One of the hardest parts of packing is the constant clutter you're stepping in. When you get to a certain point in your packing, it could be a blessing to have someone come in and remove the things you won't need. This will give you a much cleaner space to finish the rest of your packing. Just having the clutter removed alone will relieve a majority of the stress you're feeling.
This can also be extremely beneficial to a business that is moving to a different location. Time is going to be a top priority and getting a head start will only make things easier. Moving companies will have the proper moving supplies to get your items out of there quickly. You'll know your items are safe with professional moving companies near me, even when they're storing your items.
ARE YOU FALLING BEHIND ON YOUR MOVE?
We aren't always going to be lucky enough to get a head start on our move. Sometimes we have to move with little warning, while other times we procrastinate until the last minute. Either way, you'll be left with a total panic on your hands without enough time in the day to do things properly.
You'll end up rushing yourself, throwing all your items loosely into the same box with no organization, and stuff the moving truck as quickly as possible. This will only result in damaged items, risk of personal injury, and a whole lot of frustration. Essentially, you'll just be picking up a mess. Then throwing the mess into a truck. And then moving the mess into a different home.
That's not what moving process should be about. Moving should be a fresh experience that allows you an opportunity to part with all the things you don't need and remove the clutter you've collected over the years. Just because you didn't have a lot of time to move doesn't mean you should have to rush yourself.
Moving companies can store your items in their storage units while you search for a new home or office. Their ability to pack things quickly while keeping everything organized will take a lot of weight off your shoulders. Instead, you can focus on getting you and your family into the right home without any pressure.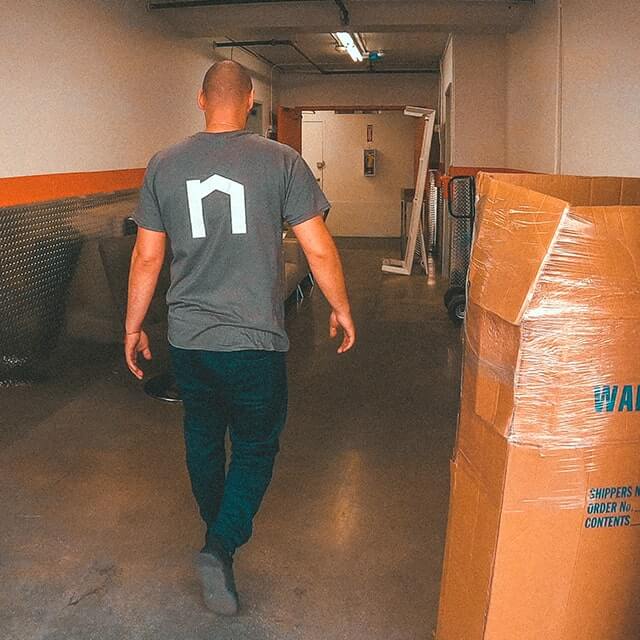 ARE YOU RENOVATING YOUR HOME OR OFFICE?
Storage services aren't only useful when moving a home. They can help you keep your belongings safe during home and office renovations. Of course, you won't want to have any valuables around the construction area and you might not have enough room to store it elsewhere in your house or office. Depending on the size of the renovation, you might need to clear out your entire space.
This can be stressful. Especially, since you have to pack everything up, move it, store it, deliver it, and then unpack it all again. If you plan on doing this all yourself, you'll add to the frustration of having to deal with a renovation. Even if you hire your employees to help you, you're taking precious time away from actual work.
Professional movers near me will be able to help you out with all of these needs, from start to finish. All you'll have to do is watch as they quickly remove the items from your space and pack it neatly into a truck. When it's time to deliver it, they'll show up accordingly and put everything back exactly where you need it.
The right local movers and long distance movers won't take over your move. But they'll act as an extension and helpful lifeline to ensure everything goes smoothly – and to ensure you don't have to lift a finger.
IS IT TIME TO DOWNSIZE?
It's difficult to judge how many items you currently own. But there will come a time when you say enough is enough. The truth is, we won't know how much we own until we start packing it up. At the end of the day, it might be time to think about downsizing.
If you're moving and have a lot of items that you don't want to take with you to your new home, but don't have room to store it before you donate or sell it, a short-term storage service can be exactly what you're looking for. Storage units near me can be provided by the moving companies helping you move. Also, these can save you from having to sign a contract with a storage facility for several months.
If you're not ready to do away with certain items yet, make sure your local movers and long distance movers are able to store it for you in there storage units. Ensure they have the proper insurance and security measure to keep your belongings safe. This will allow you to not skip a beat during the moving and remain focused on the task at hand.
CLEAN AND PROTECTED STORAGE UNITS NEAR ME
When you allow your moving companies to store your items in their storage units, you want to know that your items will be safe and free from any type of damage possible. The last thing you want is a call from the company explaining how your items have been stolen, flooded, burned, or broken.
When you choose clean and protected storage units near me, you receive a variety of benefits including:
Protection from thieves and intruders that want to steal your belongings
Clean storage units near me will be safe from insects and rodents getting into your things
Well-maintained storage units near me will prevent water damage and fires from destroying your items
You won't be worrying about your belongings throughout the day
Security cameras can help provide extra protection
Without storage units that puts your interests at the forefront, you'll be left with a devastating turn of events during a time that was already stressful as it is. Your movers near me and storage solution should make your life easier, not the other way around.
STORAGE UNITS NEAR ME ON YOUR DEMAND
Another benefit when you let your moving companies handle your storage is not having to worry about packing everything up, loading it into moving trucks, taking it to the storage units, unloading the moving trucks, loading it back up when it's time to deliver, transport it to your home or office, unload the trucks, and place it back where it belongs.
That's a lot of work and many of us won't have time to complete it all successfully. If we do, it didn't come easy and likely caused more havoc in your life than you expected.
Instead, you could make professionals do all the hard work while you focus on how to make this time relaxing for you, your family, or your employees. After all, you likely don't have all the moving supplies to get it done. Professional movers near me will pick up and deliver your items on time.
EXPERIENCED AND TRUSTED MOVERS NEAR ME
Let's be honest, most of us don't have a lot of experience moving. The same goes for packing, delivering, lifting heavy items, driving moving trucks, etc. Like anything else, these are skills that are best learned through practice and action. Experienced moving companies will have more knowledge and tricks to their craft than the average person.
Experience will lead to a lot of things, but most importantly it will lead to a more successful experience for you. Whether you need to renovate your home, move your office, or if you're patiently waiting for the purchase of your new home to finally go through, your local movers and long distance moving companies will be able to support your every need.
There's a lot that goes into your move, especially if you need to store your items. The right moving companies will take everything into account so you don't have to search for storage units. After all, you have more important things to take care of. You should be given a solid opportunity to complete those things without being rushed.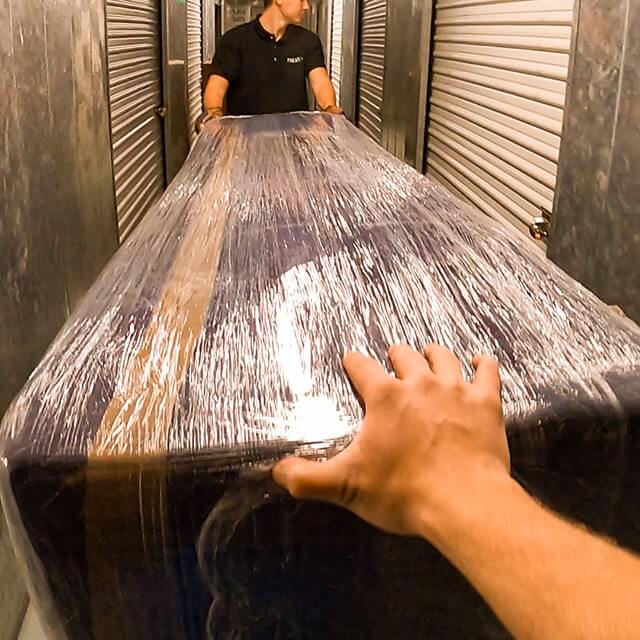 NEXT MOVING IS YOUR STORAGE SOLUTION!
It doesn't matter where you're moving to or moving from. Next Moving is prepared to assist you with all your moving, delivery, and storage services you need. Acting as a one-stop-shop for individuals, families, and businesses, we are able to offer best-in-class service at a reasonable rate.
Our local movers and long distance movers receive expert training. They are constantly being monitored for their driving skills to ensure a smooth delivery at all times. They are even trained as piano movers and other furniture delivery services.
If you're looking for movers near me or storage units near me, look no further. Even if you need interstate moving companies by your side, we can flex to whatever you need. We make sure every move or delivery is protected with moving insurance. We always provide accurate moving quotes so you can stay on budget throughout these stressful times.
With over 15 years of experience, we take great pride in satisfying our clients. We know moving is a dreadful time for anyone and deliveries can cause anxiety to form. We have the opportunity to relieve our clients of that and teach them what a real delivery service is like.
If you're looking for moving quotes and storage units near me, don't hesitate to reach out to us. We can't wait to discuss your upcoming move and how Next Moving can make your next move, your easiest move.