Moving Checklist
0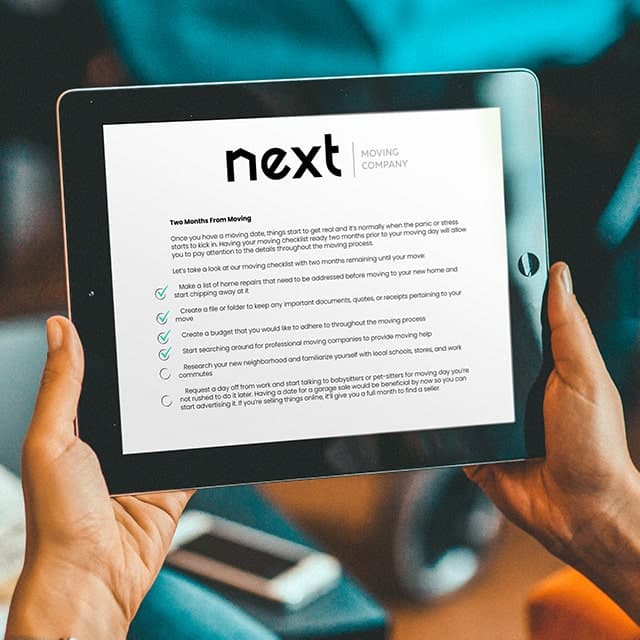 Moving to a new home can be one of the most stressful times for anyone, but will always result in the same reward – a new roof over your head full of new opportunities. A lot of this stress you can prevent by providing yourself with a solid plan well before your moving day. There will be a lot of tasks to complete from the time you decide to move to the time you actually move. When preparing for a move, with or without professional moving help, a moving checklist can help you stay organized throughout the process.
You're bound to come across several obstacles and difficulties along the way that could throw you off track. With a moving checklist, you'll always know what task is next on your list.
To help you prepare your moving checklist, we've laid out a solid plan to get you started below. Ideally, you would want to start the moving process several months out from moving. Some situations might not allow for that much time. Still, these will all be tasks that you need to complete in order to have a successful move.
We'll break it up in terms of how far away you are from your move, not by importance. When it comes to a successful move, all the little things are important and it's a big reason why many will search for professional moving help, whether it's with local movers or long distance movers.
Two Months From Moving Checklist
Once you have a moving date, things start to get real and it's normally when the panic or stress starts to kick in. Having your moving checklist ready two months prior to your moving day will allow you to pay attention to the details throughout the moving process.
Let's take a look at our moving checklist with two months remaining until your move:
Make a list of home repairs that need to be addressed before moving to your new home and start chipping away at it
Create a file or folder to keep any important documents, quotes, or receipts pertaining to your move
Create a budget that you would like to adhere to throughout the moving process
Start searching around for professional moving companies to provide moving help
Research your new neighborhood and familiarize yourself with local schools, stores, and work commutes
Request a day off from work and start talking to babysitters or pet-sitters for moving day
Start sorting through your valuable belongings into things you want to sell, donate, keep, and throw out
Sift through the rest of our website for various packing tips and moving tips
If you're creating a moving checklist for long distance movers, you'll want to get familiar with your new neighborhood so you're not shell-shocked when you arrive. Plan your first night out, which schools your children will attend, and even where you'll get your groceries from.
One Month From Moving Checklist
When you're down to one month left before your move, it's time to hustle. If you took care of the moving checklist above, you'll be in good position moving forward. If you're just now starting the moving process, you'll want to complete the above checklist before moving to the one below.
With one month left, it's time to start getting down to the specifics:
Hire a moving company using the research you compiled and the budget you created
Use the boxes and packing tips to begin packing your valuables
Start planning a garage sale or post your items for sale online to begin purging the unwanted items
Start placing all your small items in baggies and sealable bags to keep them together
Gather any and all important documents or personal data to avoid identity lost
Take inventory of all items that you want to move, including their condition
Start shopping for new services in your new neighborhood – doctor, vet, handyman, dentist, cable, internet, phone, gas and power
Return any items you've borrowed from your neighbors, local library, or nearby friends
When you hit the one month mark, you'll want to start nailing down the specifics of your move. You should confirm your moving date with the professional movers you've hired, start planning out all the new service providers you'll need to use, and most importantly start packing for the big day.
Two Weeks From Moving Checklist
You're now just two weeks away and moving day is so close you can smell it. If you haven't kept up with your moving checklist up to this point, these next two weeks are going to be extremely busy for you. For those that have stayed on track, these next two weeks will be dedicated to tying loose ends.
Let's see what's next on your moving checklist:
By now, you should've sold a majority of your unwanted items
Start cleaning out your refrigerator and pantry and try to eat everything prior to moving
Run a backup file on your computers and laptops in case something goes wrong during the move
Check in with your professional local movers or long distance movers
Check in with your babysitter and pet-sitter to confirm everything's still good to go
Plan a moving away party to celebrate all the memories you had in your house
Finish packing all of your small items, only leaving the essential items left to pack
Properly label and organize your boxes so the movers know where they go and so you can easily unpack
Send your inventory to the moving companies to review in case there's something they can't move
If they can't move something, arrange to have it moved by a separate company
By now, you should have a majority of your items either sold, donated, or packed up and ready to move.
One Week From Moving Checklist
It's moving week. If you have a completed checklist thus far, this week will be a breeze – outside of the occasional obstacle or hiccup. The difference between following your checklist and not following it is when those obstacles do appear, you actually have the time and energy to deal with them.
Here's what you should be focusing on during moving week:
Any items that you haven't been able to sell, put out to the curb or donate
Start going over your inventory list to double check everything
Clean your appliances and furniture so they don't spread dirt and scum during the move
Update your address with USPS, your banks, your work, the DMV, all your subscriptions, and your insurance companies
Schedule to have your gas, power, cable, and internet transferred to your new address
Make amends with your current landlord or complex, hand in your moving-out report
Prepare your house for the professional movers to ensure a smooth moving day
Pack a 'first night box' with essentials for after you're finished moving from your old home
Check the weather forecast to avoid any surprises on moving day
Start to familiarize yourself with your new neighborhood again
With your moving checklist, the final week before you move should be spent preparing for moving day. You shouldn't be doing much packing, other than the essentials that haven't been packed yet. You'll also want to clean, but this will be less stressful with everything else already taken care of.
Moving Day
You've made it. It hasn't been easy, but at least you've stayed on track and have everything you need for a successful moving day. Since you've spent the last few months preparing for this moment, a majority of the work on this day should be handed over to your professional movers. That way you can relax and complete your final errands before moving from your old house.
Let's see what's on your list for moving day:
Set an alarm so you can wake up at an appropriate time
Complete your final walkthrough of the house or apartment and make sure you haven't left anything behind
Check in with your professional movers and exchange any final words you have for them before they get started
Get to your new house as early as possible
Start unpacking your essentials and the items you transported yourself
Visit your local grocery store so you can stock up your refrigerator and pantry
Introduce yourself to your neighbors and community
Start planning a housewarming party
Being unpacking and setting up your new home as the movers unload the truck
Celebrate your 2-month graduation from moving day!
Moving day is a dreadful experience that many people try to avoid. While this can be the case, it's almost always preventable when the right measures are taken leading up to your moving day. You'll notice that when you follow this moving checklist, your moving day is more centered around getting settled instead of building stress.
Ready for Help? Next Moving is Here For You!
At Next Moving, we do more than make sure you have all the tools, resources, moving tips, and packing tips necessary for a successful move. We're ready and fully capable to be your trusted movers to assist you with your move from start to finish.
Unlike many moving companies out there, Next Moving provides our clients with the proper insurance, moving supplies, equipment, trucks, and moving techniques. Our local movers and long distance movers are more-than-qualified thanks to state-of-the-art training methods performed by professionals.
Whether you're moving to a different city or moving from across the country, Next Moving is here to help. Feel free to reach out to us at anytime to receive a free quote for your next move.
Contact us today
To get a free quote for your move! We are excited and eager to help you.