Moving Cost Calculator
0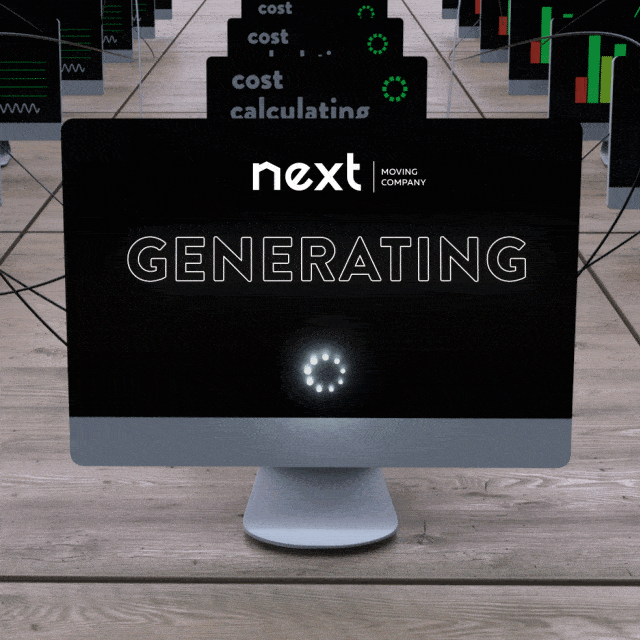 Moving day can be stressful on your mind, body, and bank account. Hiring a moving company can help save you from overpaying throughout the moving process. It gives you the confidence you haven't had in years past. Still, some moving companies can be deceiving with their pricing. Without proper research, you can end up agreeing to hourly moving rates that exceed your budget. Moving cost calculator can help you to stay within your budget.
To combat this, you should be aware of what you're getting yourself into when companies invoice by the hour. There are a variety of things to consider that could result in your movers eating up more time than you expected. Especially when it comes to long distance movers. Although most companies will try to hide this, some companies might provide a moving cost calculator to assist.
Many companies will either offer an hourly rate or have a complex pricing structure that can depend on a variety of things related to your move. This can make you weary from the beginning. Also, it can lead to disappointment when it's all said and done.
Let's explore what some of these hidden costs are and how they can affect the time taken by the movers.
Load Volume
The number of items you have to transport, or more importantly, how much they weigh, can have a profound impact on the cost of your move. Not only will it affect the size of the moving truck needed, but it could call for multiple vehicles and multiple crews.
In worse cases, some moving companies might only have one truck available. If your move requires multiple trucks, you could be left with the only option of numerous trips. This will quickly double the amount of time needed to complete the move.
That clock keeps ticking if they aren't properly trained to handle these items, which can increase load times.
Distance
The distance will play a crucial role in the time needed to move your items successfully. If the company is charging hourly moving rates, you'll want to take into account how long it will take to drive from your current home to the new house. Some companies might charge an additional fee for long-distance moves, adding to the expense.
Gas prices are also becoming higher and higher. If your moving company makes you pay for gas after the move, that distance can become quite significant. The last thing you want is to get a considerable gas bill after the movers finish unloading the truck.
Parking
This is something that will likely go under your radar as far as hidden expenses go. When considering parking, you'll want to observe where the movers will need to park the moving truck to load and unload the truck.
If the distance between your home and the truck is a little far, it will only mean more time to load and unload the truck. This can also lead to fatigue setting in quicker, slowing the movers down. Most local and long distance moving companies won't include this into their moving cost calculator.
Disassembling Pieces
This can hurt you in two different ways. The first way is with the number of items and furniture that need to be broken down and disassembled. The less you have, the better. But sometimes pieces you thought would fit through the door don't – which leads me to my next point.
If your movers don't know how to quickly disassemble large items and furniture, this will only delay the process. And if they struggle with taking it apart, it likely won't be easy for them to put it back together. A reliable moving company ensures all its movers successfully complete a series of extensive training courses.
Breaks
When your long distance movers are driving your belongings from one home to the next, you should know what they're doing in that time. Many moving companies will allow their movers to take breaks and make food stops.
This is fine, as long as you aren't paying for those breaks. You'll want to check with the company to see what they allow their long distance movers to do. If you don't check, they could end up taking advantage of you, leading to a more costly move in the end.
Supplies and Equipment
Moving is challenging without the proper supplies and equipment. When doing a move yourself, you will likely rent a truck and find some friends and family for help. When renting the truck, you will usually have the option of renting a dolly.
Chances are, this is all you're going to have to help you. Anything extra, like moving blankets, wardrobe boxes, and tape will be an additional fee and only drive up the cost. Many moving trucks that you'll rent don't offer lift gates and side gates. This can be crucial when moving large items or loading a truck in small parking spots.
Moving Cost Calculator Helps To Detail Your Move
When comparing different moving rates on the internet, hourly moving rates might seem like the cheapest way to go. Especially when the moving company doesn't take everything into account when planning the trip. Unfortunately, there are too many factors when it comes to moving, and you'll need to find a company a little more transparent about the final cost.
Whether it's the amount of stuff you have, the distance of the move, parking, disassembling pieces, taking breaks, or equipment, no one should hire a moving company without first verifying these won't drive up the cost.
If only they could make it easy for the client and offer a more stable price structure or free moving estimate, it wouldn't have to be this difficult. Even better, a moving cost calculator that can detail your move for you.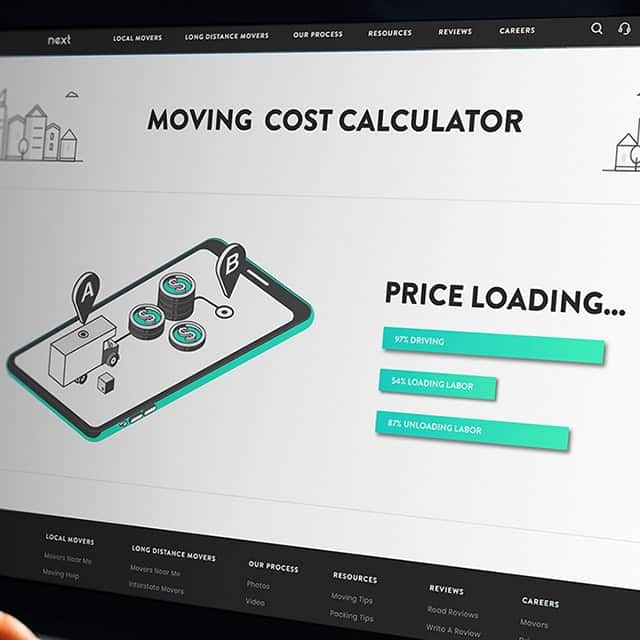 Our Latest Moving Cost Calculator
With Next Moving, we like our clients to feel confident with their budget before we even set anything up. With our moving cost calculator, you can receive an accurate moving estimate of what your move will cost.
Using the newest technology, we take everything into account when giving a moving estimate. This includes the amount of stuff you have, the distance of the move, packing, disassembling pieces, moving supplies and equipment. This helps you better prepare for your move, while effectively condensing your moving cost into one bill.
Giving you the peace of mind while moving, Next Moving won't charge you extra when movers take a break or stop for food. You will only be paying when our movers are actually working.
In addition, Next Moving provides all different types of insurance to keep your valuable belongings protected throughout the process. We believe you shouldn't have to worry about any of your items getting damaged or broken – and definitely shouldn't have to worry about any fees or bills that might come as a result of damaging the interior or exterior of the property.
There's a reason our clients experience their most confident move with us, and we are eager to extend those services to you. If you're ready to use our moving cost calculator to simplify the moving process, contact Next Moving today! We can't wait to show you what we're all about.
Contact us today
To get a free quote for your move! We are excited and eager to help you.