Apartment Moving Services
0
Whether it's due to the long, grueling process tiring you out or the physical nature of the task, moving will always require outside help. This is especially true for anyone moving out of an apartment, due to the complexity of the move. Many apartment movers will neglect your valuables and disregard the structure of the building. This could lead to extra fees when you go through your final inspection.
Luckily, good help is easy to find and can save you from a wide range of issues, headaches, and delays. Searching for a reliable, trustworthy, and respectful company to help move you out of your apartment can make this process less stressful – so you can enjoy your new home!
There are plenty of factors that will differentiate a good moving company from a bad one. If you know what should be expected of apartment movers, you can ensure a stress- and headache-free move.
APARTMENT MOVERS KEEP YOUR ITEMS SAFE
Let's be honest, your first priority is your personal and valuable items. Everything from your furniture to electronics, clothes, office supplies, kitchenware, and all that junk in the garage that you can't seem to throw away. You want to make sure these items get to your next destination in the same condition you packed them in.
Just imagine packing up all of your belongings in an organized manner, just to have your movers mishandle them.
A company that takes the time to develop a moving strategy based on the items you have can make all the difference in preventing disasters from happening. Properly pack a truck and organize furniture in a way that keeps everything damage-free is a tough skill to learn. That's why hiring quality professionals can help your moving process go a lot smoother.
It's like Tetris, but much more pressure and more demanding of a task.
APARTMENT MOVERS KEEP YOUR APARTMENT SAFE
One of the larger difficulties when moving out of an apartment is keeping the property you've been living in safe. So much can go wrong in the moving stage and it can end up costing you a lot of money.
When you first moved into your apartment, you likely remember filling out a short "survey" of the apartment's condition. This will include the walls, baseboards, doors, windows, carpet, appliances, and little things like doorknobs, light fixtures, and air vents. You likely also remember them telling you to be specific and accurate when filling this out.
There's a reason they do this and it's because they use it – along with your maintenance requests over the months or years – to calculate any property damage caused by you. This will usually follow up with one last bill with the findings and costs of the repairs. You will be expected to pay this bill.
Moving large furniture out of a small apartment can be difficult in its own. But doing so without causing any damage to the apartment is nearly impossible without a dedicated team to help.
Light fixtures, alarms, and sprinkler systems are all at risk of damage when moving large items. Preventing these damages inside the apartment can help you save on that final bill with less repairs needed.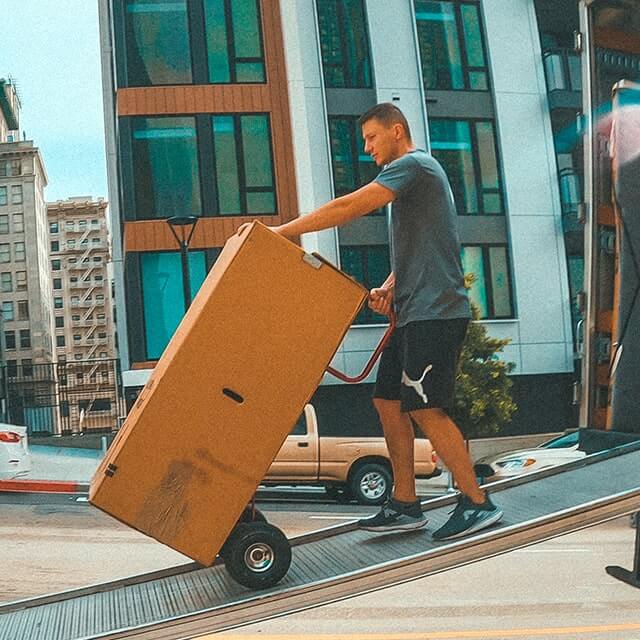 APARTMENT MOVERS KEEP THE PROPERTY SAFE
The risks don't end with your valuable and the inside of the apartment. There's also a lot that can go wrong outside of the apartment. Whether you have stairs that lead to your apartment or an elevator, these can create more difficulty with your move. Not only will this make it harder to keep your items safe, but gives you more opportunity to cause damage elsewhere.
Any damage to the property outside of your apartment can only give you more bills to pay. It's important for apartment movers to be careful moving your items through elevators, stairs, lobbies, sidewalks, and landscaping.
You want a company that will move your stuff without you even noticing they were there to begin with.
BEING POLITE AND RESPECTFUL
Again, the moving process should be as relaxing and stress-free for you as possible. It's not only the last time you'll see your belongings in your apartment. It's also the beginning of seeing them in your new home. This should be an exciting time.
A moving team that is constantly rude or disrespectful to your belongings and surrounding property can ruin this experience for you and put a hamper on your day. The professional apartment movers will make your forget it's even moving day. Before you know it, you'll be arriving at your new home with all your belongings safely delivered.
It's important that being polite and respectful gets extended to the surrounding tenants, as well. We've all been on the other side of moving day, whether it be your neighbor or family member. It can be loud and obnoxious at times, so keeping that down to a minimum is key. There can also be several obstacles or blockages in parking lots, sidewalks, and lobbies.
A quality moving company will make sure to check in with the property's front office. Also, it will make sure any surrounding tenants and staff are notified of their presence. This will ensure that best practices are followed and you are out of anyone's way.
PROVIDING INSURANCE IS KEY
When you put your trust into a moving company getting your belongings from one location to another, you want to make sure that your belongings are safe even in the event of damage. Because of this, you'll want to confirm with the moving company that they have all the necessary insurance.
Many apartment movers will offer two types of liability insurance in their attached moving quotes. The standard one, which is usually included in the base price, is known as released value protection. This will give the moving company three options – repair damaged item, replace with a like-condition, or do a cash settlement.
The other type of liability insurance is full protection. In this case, moving company resumes all liability of the damaged goods and must handle 100% of the replacement value and shipment.
Liability insurance is important. But some states – like California – require apartment movers to provide proof of cargo insurance. Making sure the moving company you decide to go with can help save you from massive headaches on moving day in the event something goes wrong.
Companies will also need various other state permits. For example, California requires all moving companies to obtain a household goods carrier permit.
APARTMENT MOVING CAN BE DIFFICULT
Sure, houses will likely include a larger load of belongings when moving. But it won't pose the same difficulties you'll encounter when moving out of an apartment. Everything could possibly go wrong and there are so many factors that make it hard to get your belongings to your new home all in one piece.
Listed below are just some of these difficulties you can face when moving from an apartment. A majority of which you likely wouldn't even think of beforehand:
HIGH-TRAFFIC AREAS
Unlike houses, apartments are often crammed together with multiple units in one building, sometimes hundreds of units in a building. This means there are constantly people walking in and out of their own apartments, making it tougher to avoid getting in other people's way.
STAIRS AND ELEVATORS
Most people who live in apartment buildings prefer to live on the second story – or higher depending on the size of the building. This can help avoid the noisy people living above you, but will make moving out a difficult task. Professional apartment movers will help make this process easier and safer.
TIGHT AND CONFINED SPACES
Apartments aren't going to provide as much space to maneuver your large furniture through. This will require a certain level of strategy and execution that can be tough for the normal person. Professional apartment movers will always find the best routes and angles to move your belongings without damaging them.
CROWDED PARKING STRUCTURE
You are going to need to park the moving truck somewhere and this can prove to be difficult in small parking areas or crowded ones. These are often found at apartment buildings and can require more work than you're ready to tackle. In addition, properly parking the truck in a crowded space can be hard for someone who isn't used to driving vehicles that size.
CLEANLINESS AND DAMAGE
Aside from the physical aspect of it, many believe moving is simple and can be done quickly. The reality is the quicker you do it, the sloppier you are with it. This can lead to damaging your belongings, getting them dirty or scuffed, and even damaging the property. Professional apartment movers do this for a living and know how to get your stuff to your new home safely.
INJURIES
Then there's the physical aspect of it, which can create some much larger and more serious issues than moving into an apartment. Without proper lifting techniques and the proper use of equipment, you can put your body at risk of injury. Sometimes, it's best to leave it to a professional moving team.
The unique obstacles encountered when moving out of an apartment make it hard to accomplish all by yourself. The journey has been grueling from the beginning, the moving process should be a breath of fresh air for you and your family. A moving company can help turn that into a reality on moving day.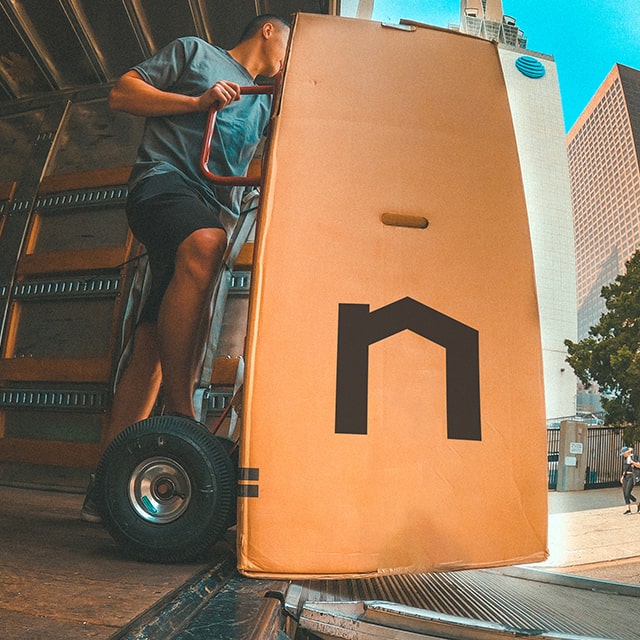 NEXT MOVING APARTMENT MOVERS CAN HELP
Next Moving has all the credentials and insurance needed to safely transport your belongings from your apartment. And we do it with the utmost respect, class, and safety to ensure complete customer satisfaction.
Satisfied customers are the backbone of our business and we make your satisfaction our #1 mission when we do business with you. Our professional apartment movers treat your belongings like art masterpieces. yes, every single belonging – and will always be polite to you, your family, and any neighboring tenants.
We don't want to make this process any longer or more grueling than it already is, which is why quality service is what you can expect. Sit back, relax, and enjoy the beauty of watching your stuff transport from one location to the next without lifting a finger.
Contact us today to receive a quote for your moving day! We are excited and eager to hear from you.
Contact us today
To get a free quote for your move! We are excited and eager to help you.